Will the MagGrip 2 Fit My Flash?
Updated 4 days ago
Will the MagGrip 2 Fit My Flash?
We know it's hard to believe that a system can be universal...
But with MagMod it's true!
The MagMod modifier system works so well because of the universal design of the MagGrip 2. The MagGrip 2 is a patented design made of high-quality silicone rubber which makes it easy to stretch and fit onto almost any hot-shoe flash.
There's only one MagGrip 2 design, so you don't have to worry about figuring out different sizes for different flashes. While we haven't tested the MagGrip 2 with every flash on the market, we are confident that the MagGrip 2 will work with most flashes that have a rectangular flash head, with many round head flashes, and with those that are close in shape, and size to these verified flashes as well:
| | |
| --- | --- |
| Brand | Model |
| Bolt | VX-710N/C, VX-760-C, VS-510 OP, VS-560s |
| Bower | SFD680C, SFD728, SFD885, SFD926, SFD970 |
| Canon | 380EX, 420EX, 430EX, 430EX II, 540EZ, 550EX, 580EX, 580EX II, 600EX-RT, EL-1* |
| Flashpoint | Zoom Li-on R2, V860II, TT600, TT350s, Evolv 200, V860II, TT650, Zoom II AA R2 |
| Fuji | EF-60, EF-X500, EF-42 |
| Geekoto | GTR, GT200, GT250 |
| Godox | AD100, AD100 Pro, AD200, AD200 Pro, TT350S, V850II, TT685S, V860II, TT660II, TT520II, V1, TT600, TT560II |
| Metz | 44 AF-1, 52 AF-1/2, 58-AF1/2, 58-AF2 |
| Neewer | TT560, NW680/TT680, Z1, Q3, NW635II, NW561, NW625, 750II, NW600, NW670 |
| Nikon | SB-24, SB-25, SB-26, SB-28(DX) SB-50DX, SB-80DX, SB-600, SB-700, SB-800, SB-900**, SB-910, SB-5000 |
| Nissin | i40, i60  |
| Olympus | FL-50R, FL-600R |
| Pentax | AF-540 FGZ, AF-540 FGZ II, AF-360 FGZ |
| Phottix | Mitros, Mitros+ |
| Profoto | A1, A1x, A10 |
| Sigma | EF610 |
| Sony   | HVL-F60M, HVL-F58AM, HVL-F56AM |
| Vivitar | DF-286, DF-293, DF-383, DF-483, DF-583, 385HV |
| Westcott | FJ80, FJ80II |
| Yongnuo | YN 560, YN 560 II, YN 560 III, YN 568EX II,YN 565EX, YN685, YN600, YN650EX-RF |
* The Canon EL-1 Is fully compatible with all but the Pro Creative Gels, Pro Correction Gels and Pro Artistic Gels modifiers. Because of the large size of the EL-1 flash head and the rigid nature of the Pro Gels, both sides do not connect.
**The Nikon SB-900 has a small button on the underside of the flash head used to tell the flash when you have mounted the included Nikon diffuser. This forces and restricts the flash to zoom to 14mm, it's widest setting.  Sometimes with the MagGrip 2 installed, the button will be depressed, and you will not be able to change the zoom on your flash.  Nikon apparently realized this flaw and improved it on the SB-910.  If you shoot with a SB-900, you can try adding a washer or some layers of tape to prevent this button from being depressed.
Can I Use the MagGrip 2 with Round Head Flashes?
In short, yes! The MagGrip 2 is optimized to use with round head flashes like the Profoto A1, Godox V1, and Westcott FJ80.
Need some help installing the MagGrip 2? Due to its universal build sometimes the fit can be snug on certain flashes. This page provides instruction, and has a helpful video that specifically shows a great technique for putting it on round head flashes.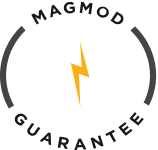 And if you still aren't completely sure, MagMod has an awesome 30-day return policy. If you're not happy with the fit of your MagGrip 2, or any MagMod product, you've got 30 days to send it back to us for a refund of your order.
Was this article helpful?